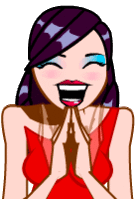 Waiting On" Wednesday is a weekly event, hosted by Jill at
Breaking the Spine,
that spotlights upcoming releases that we're eagerly anticipating.
This week's WoW selection is...

City of Heavenly Fire
by
Cassandra Clare
ΕRCHOMAI, SEBASTIAN HAD SAID
I am coming.
Darkness returns to the Shadowhunter world. As their society falls apart around them, Clary, Jace, Simon and their friends must band together to fight the greatest evil the Nephilim have ever faced: Clary's own brother. Nothing in the world can defeat him — must they journey to another world to find the chance? Lives will be lost, love sacrificed, and the whole world changed in the sixth and last installment of the Mortal Instruments series!
Why I'm Waiting...
Long story short, I read through The Mortal Instruments Series in record time. I was hitting up B&N and buying each book like it was an addiction! I am pretty sure that I chipped off my nail polish and kept biting my nails till I was done! Admittedly I have dragged my arse as far as reading Clockwork Angel. I have it... sitting on a side table in my living room with my bookmark in it even! I have no idea what's up with that but I have been really busy though.
I cannot wait for City of Heavenly Fire to come out! I will be getting it probably in pre-order. It's just one I MUST have!
What do you think of my pick?
Leave a comment below and a link to your WoW post!
What's your "waiting on" pick this week?
Want to participate? Go get the logo, post your own WoW entry on your blog, and leave your link HERE!